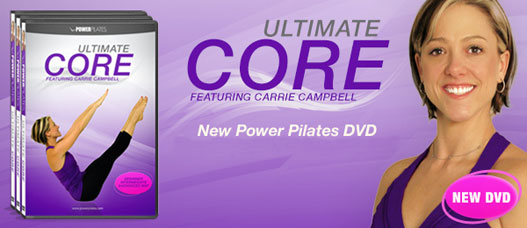 This DVD has 3 workouts (beginner, intermediate and advanced) so that you can learn the basics first and then advance when you are ready. Each level workout will have you challenging your core with an added focus on technique, flow and complex cues.
$20 per DVD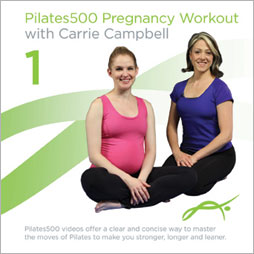 Pilates500 DVDs and Downloads offer a clear concise way to master the moves of Pilates. You don't have to be an expert to enjoy and learn from the Pilates500 collection. These Prenatal workouts are designed to suit all levels of fitness and all stages of pregnancy. Download yours today and start feeling stronger, less stressed and more energized.
$12 per DVD or $20 for the set

The Power Pilates method consists of controlled, precise movements designed to stretch and strengthen muscle without adding bulk. You will be empowered to discover your inner strength, transform mind and body, increase stamina, improve your health and achieve a new and exciting physical well being.
All downloads are $9.99
Wake Up And Go with Carrie Campbell
Short yet effective, this 20 minute beginner level workout provides you the perfect way to start your day. Rise 'n shine!


Running Time: 20:00




Flow And Go with Carrie Campbell
This dynamic and flowing intermediate level workout is the perfect way to stay in shape when you are on the go.


Running Time: 19:00




Flow And Go With Band with Carrie Campbell
Challenge your core "to the max" by adding the resistance band to all the traditional intermediate level exercises.


Running Time: 25:00




Flow And Go With Weights with Carrie Campbell
Get ready to "kick it up a notch" in this dynamic and flowing intermediate level workout with light weights.


Running Time: 28:00




Ultimate Core I with Carrie Campbell
This advanced level workout will have you challenging your core with an added focus on flow and complex cues.


Running Time: 30:00




Ultimate Core III with Carrie Campbell
This advanced level workout incorporates the Magic Circle so that you can challenge your core "to the max"!


Running Time: 31:00




Wunda Chair Workout with Carrie Campbell
A Pilates Wunda Chair and strong core are needed for this intermediate level workout.


Running Time: 19:00




Reformer On The Mat with Carrie Campbell
Experience the advanced level reformer exercises - on the mat! No Reformer needed!


Running Time: 44:00




Magic Circle Madness II with Carrie Campbell
This is an intermediate level workout with the Magic Circle. This workout promises to be both fun and challenging!


Running Time: 38:00




All downloads are $20
Advanced Tower Class with Carrie Campbell
Learn fun fresh choreography on the Tower while challenging yourself at the advanced level.

Apparatus needed: Pilates Tower or Cadalliac.




Prenatal Reformer Workout with Carrie Campbell
This Reformer workout is perfect for women in their 2nd and 3rd Trimesters. You will do core and pelvic floor strengthening to help with labor and delivery and learn lots of stretches to ease common pregnancy aches and pains.


Apparatus needed: Pilates Reformer




Mini Ball Workout with Carrie Campbell
Join Carrie for a strong intermediate mat class utilizing the mini ball. The mini ball is a great prop that you can use at home or take with you when you travel. It adds an extra challenge to the classical mat work and helps open up your spine similar to the small barrels.


Apparatus needed: Mini ball




Pregnancy is an amazing natural journey but also a highly physiologically complex state. Want to learn more about exercise during pregnancy or how to teach prenatal clients? Download Pilates for Pregnancy and Beyond to learn about the different stages of pregnancy and crucial exercise modifications therein.



$4.99 for Pilates for Pregnancy and Beyond: The Lecture
$9.99 for Pilates for Pregnancy and Beyond: The Exercises